Welcome to NovaEnEv 2012
NovaEnEv 2012 took place in Ottawa on June 15, 2012.
This is to thank all contributors for making this workshop possible!
Please consider submitting your work to our follow-up workshop at ICC 2013.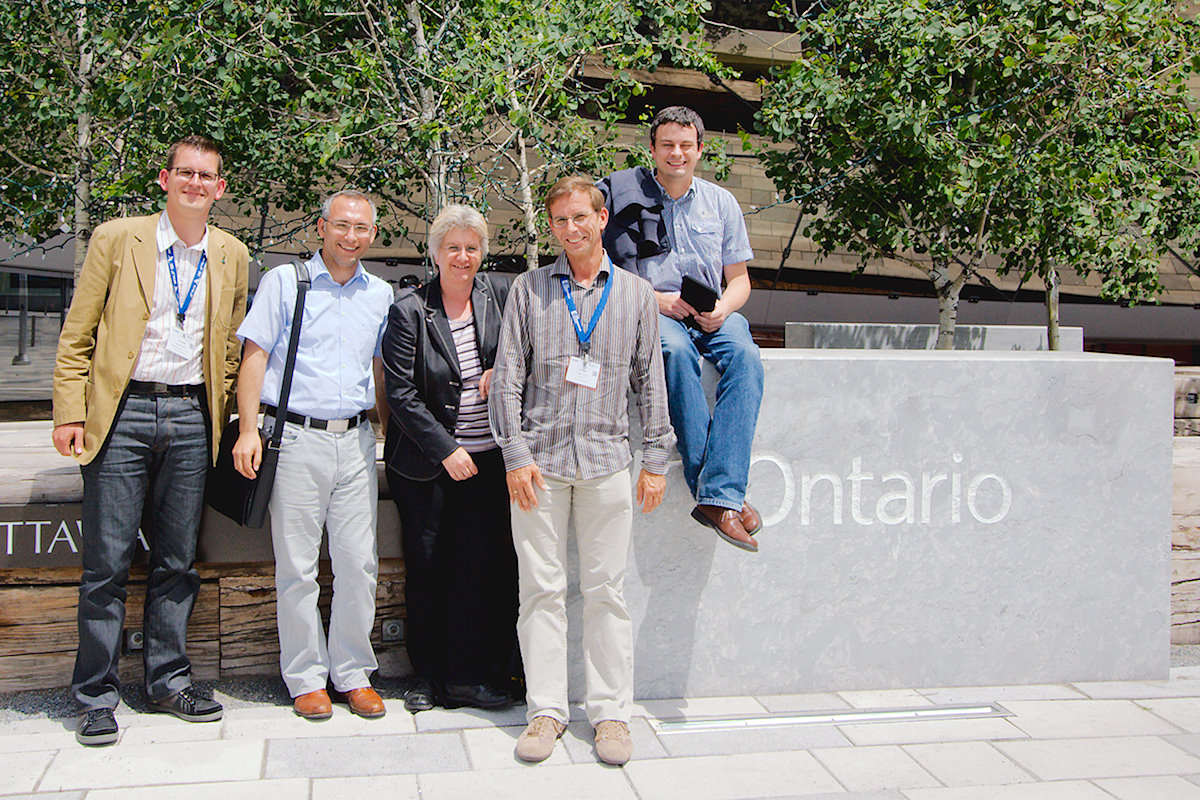 The (Co-)Chairs Joachim Wilke, Mesut Günes, Martina Zitterbart, Torsten Braun, Christian Haas (left to right).
---
News
10. Sep 2011:
Call for Papers
is online [
pdf
] [
txt
]
20. Dec 2011:
Deadline has been extended up to January 07th, 2012 (Final deadline).
03. Mar 2012:
List of accepted papers and program is online.
Committee
| | | |
| --- | --- | --- |
| General Chairs | Torsten Braun | University of Bern, Switzerland |
| | Mesut Güneş | Freie Universität Berlin, Germany |
| | Martina Zitterbart | KIT, Germany |
| | | |
| Workshop Co-Chairs | Christian Haas | KIT, Germany |
| | Joachim Wilke | KIT, Germany |
| | | |
| TPC Members | Giuseppe Anastasi | University of Pisa, Italy |
| | Emmanuel Baccelli | INRIA, France |
| | Erik-Oliver Blass | EURECOM, France |
| | Mukul Goyal | University of Wisconsin-Milwaukee, USA |
| | Hans-Joachim Hof | Munich University of Applied Sciences, Germany |
| | Karin Anna Hummel | University of Vienna, Austria |
| | Philipp Hurni | University of Bern, Switzerland |
| | Iordanis Koutsopoulos | University of Thessaly, Greece |
| | Kenichi Mase | Niigata University, Japan |
| | Hermann De Meer | Universität Passau, Germany |
| | Rastin Pries | University of Würzburg, Germany |
| | Jose Rolim | Université de Genève, Switzerland |
| | Jorge Sá Silva | University of Coimbra, Portugal |
| | Paolo Santi | National Research Council, Italy |
| | Hans D. Schotten | Technische Universität Kaiserslautern, Germany |
| | Ahmet Sekercioglu | University of Melbourne, Australia |
| | Oliver Waldhorst | TU Ilmenau, Germany |
| | | |